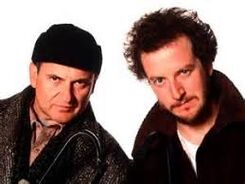 The Wet Bandits are a group of criminals.
Known members
Tools
crowbars (once in the first film)
Trivia
In the first movie, in every house that they hit, Marv leaves the water running.
Marv got the idea of the Sticky Bandits after stealing money from a Santa Claus with duct tape.