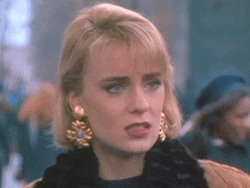 The model is a minor character in Home Alone 2: Lost in New York . She is played by actress Leigh Zimmerman.
Home Alone 2: Lost in New YorkEdit
When Harry and Marv are walking down the sidewalk in New York City, Kevin walks by them without seeing them. Harry turns around and tells Marv that he thought he saw something, and Marv turns around to look at what Harry had seen. However, because he wasn't paying attention to where he was going, Marv accidentally bumps into a young fashion model who had stopped to check her watch in order to see what time it was. Marv accidentally gets his hand stuck on her purse. He then pulls it off and apologizes to her by saying he's sorry in French. The Model isn't impressed and slaps Marv on his cheek as her way of telling him she's not interested in him and then leaves. Harry then tells Marv that it serves him right and walks off, while Marv feels his cheek and remarks that he thinks the Model likes him.
The next day, when Harry and Marv grab Kevin and take him with them, they stop at a street corner, and after checking to see that they're both not looking, Kevin gooses the lady who is standing in front of them, who turns out to be the fashion model. When she turns around wondering who it was that goosed her, she gasps in shock at the sight of Marv, remembering him from the day before, and believes that he's the one who touched her rump. When Marv sees her, he smiles and says hello to her, at which the Model punches Marv across the face, causing him to let go of Kevin while falling to the ground. Kevin then tells the Model that Harry is the one who grabbed her rump, and the Model punches Harry across the face, making him fall to the ground as well, while also letting go of Kevin. Kevin thanks the Model for her help, and she nods to him while smiling in a "you're welcome" manner and leaves while Kevin turns and makes his escape by running into Central Park. She is not seen in the rest of the film after that.