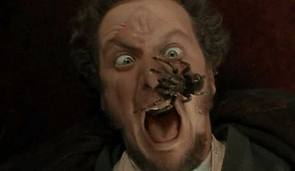 The Tarantula was seen in the first film, "Home Alone" and Buzz McCallister keeps one in his room, in a fish tank housed on a shelving unit. When Kevin was left home alone and attempted to climb said shelves to get to Buzz's life savings, his weight broke them and came tumbling down. While Kevin dusts himself down and takes the savings, the tank has also shattered, allowing the tarantula to escape, as it seem wondering the house for the rest of the film.
In another scene when Kevin was cleaning himself in the bathroom, the tarantula can be seen crawling next to the toilet. As Kevin prepares the traps in preparation for the night ahead, the spider can be seen wondering the house in various locations (on a wooden shelf, running across the front room etc.) During the trap scene, Marv tripped on a rope and grabbed Kevin by the leg as he tried to escape to the third floor. Kevin saw the tarantula crawling along the steps and tried to reach it. The spider doesn't bite when he reaches it and Kevin, able to pick up the tarantula, places it on Marv's face, causing Marv to comedically shriek like a little girl and giving Kevin a chance to reach the attic. Frightened, Marv, who was still shrieking, threw the spider on Harry (who was knocked out), grabs his crowbar and Harry, who had awakened, asked Marv what he was doing. Marv told Harry not to move, and while the tarantula was still on him, Marv whacks Harry in the belly with the crowbar, yet missing the arachnid by inches.
Whilst Harry argues with Marv for hitting him with the crowbar, the tarantula flees the scene and isn't seen for the rest of the movie, but is presumed to be found by Buzz when the family returns home when he saw the mess of his room.
Trivia: The species of tarantula used in the film was for years presumed to be the Chilean Rose Tarantula (also known as Grammostola Rosea) as said species is a very commonly used spider in movies due to its more docile nature and large availability. However, the actual species used is now reportedly to be the Costa Rican Zebra Tarantula (Aphonopelma Seemani), given its orange web spinnerets and striped legs seen clearly on its legs throughout the film, a known feature of this species.
Ad blocker interference detected!
Wikia is a free-to-use site that makes money from advertising. We have a modified experience for viewers using ad blockers

Wikia is not accessible if you've made further modifications. Remove the custom ad blocker rule(s) and the page will load as expected.