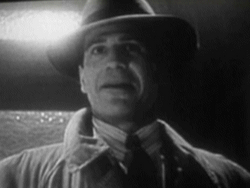 Snakes is a gangster in Angels with Filthy Souls. He is told by his boss, Acey, to go to Johnny's office to get some cash. He was played by Michael Guido.
Angels With Filthy Souls (Home Alone)Edit
Kevin watches Angels with Filthy Souls, and after Johnny kills Snakes, Kevin pauses the movie and calls for his mother.
While Kevin is paying for his pizza, he fasts forward through Snakes' parts in order to use Johnny's speaking voice to communicate with the pizza guy.
Snakes and Johnny are last seen when Kevin plays the part where Johnny kills Snakes and lights some firecrackers in order to scare Marv Merchants, who recognizes Snakes' voice and told Harry that "[Snakes] sounded like a snake".
It's possible Marv has seen Angels with Filthy Souls since he recognized Johnny's voice AND heard the name Snakes before.
Ad blocker interference detected!
Wikia is a free-to-use site that makes money from advertising. We have a modified experience for viewers using ad blockers

Wikia is not accessible if you've made further modifications. Remove the custom ad blocker rule(s) and the page will load as expected.