Roberts Blossom (1924-2011) was an American Actor and Poet who played Old Man Marley in Home Alone. He also had roles in movies such as Deranged (1974), Steven Spielberg's Always (1989), Doc Hollywood (1991) with Michael J. Fox, and The Quick and the Dead (1995).  He also guest starred on TV shows, such as The Twilight Zone and Moonlighting.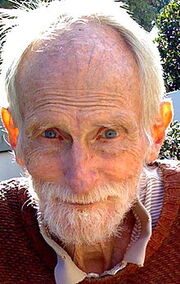 Blossoms was married to Beverly Schmidt-Blossom from 1966 until their divorce in 1970. They have a son named Michael Blossom and a daughter Beverly Blossom.  He later married his second wife Marilyn Orshan-Blossom and they remained married until her death in 1982. Blossom retired from acting in 2000 and became a poet.
Roberts Blossom died on July 8, 2011 at a Nursing Home in Santa Monica California from natural causes at age 87.  He was survived by his two children, Michael Blossom and Beverly Blossom. 
Ad blocker interference detected!
Wikia is a free-to-use site that makes money from advertising. We have a modified experience for viewers using ad blockers

Wikia is not accessible if you've made further modifications. Remove the custom ad blocker rule(s) and the page will load as expected.