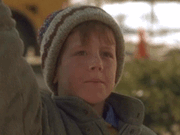 Mitch Murphy is a character in Home Alone (1990). He is Kevin McCallister's neighbor friend and played by actor Jeffrey Wiseman in the movie.
Home Alone
Edit
In the movie Mitch Murphy is the McCallisters' 8-year-old neighbor from across the street who comes over to the house the day the family leaves for their vacation to Paris, to see what's going on.
When Mitch arrives, he introduces himself to one of the airport van drivers and asks the driver if he's going out of town. He then tells him that he and his family are going to Orlando, Florida via Missouri to pick up his grandmother. He then asks the driver all sorts of strange questions such as if the vans get good gas mileage and if he knew the McCallisters are going to France, as well if it's cold there, to which the Driver says that he doesn't know and tells Mitch to hit the road.
Mitch then climbs into the first Van with the other driver and also asks him questions such as how fast the van goes. The driver tells Mitch to not bother him and to beat it; Mitch gets out of the van, but looks in one of the McCallisters' suitcases. He finds a camera and uses it to take a picture of the inside of the van. Because he has his back to her, Kevin's cousin Heather accidentally counts Mitch in the group of heads, thinking that he's Kevin and doesn't realize her mistake. Then after looking through the suitcase, Mitch hops out of the van and tells the McCallisters to have a good trip and to bring him back something French. He then returns home so he can go with his family on their trip to Orlando, Florida. He doesn't appear throughout the rest of the film afterwards.
Jeffrey Wiseman, who plays Mitch Murphy, originally tried out for the role of Kevin McCallister (which went to Macaulay Culkin).
According to Kevin, he lives at 656 Lincoln blvd.
Ad blocker interference detected!
Wikia is a free-to-use site that makes money from advertising. We have a modified experience for viewers using ad blockers

Wikia is not accessible if you've made further modifications. Remove the custom ad blocker rule(s) and the page will load as expected.