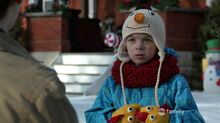 Mason is the neighbor of Finn Baxter in Home Alone: The Holiday Heist. He always outside playing in the snow.
Personality
Edit
Mason is a cute 9 or 10 year old boy who loves to play in the snow. Mason gets scared when he thinks there's a ghost in Finn's house. Mason cares for his friend and is very intelligent when he makes a snowball launcher to save Finn from Jessica. Mason likes his friend and wants to have fun especially when he wants to play in the snow. Mason can be sneaky especially when he throws a snowball at Finn which starts a snowball fight.
Home Alone 5
Edit
Mason is portrayed by Peter DaCunha.
Mason is the first kid to be an ally to the main character.
He makes things that have to do with snow all the time.
It's unknown what his last name is
Ad blocker interference detected!
Wikia is a free-to-use site that makes money from advertising. We have a modified experience for viewers using ad blockers

Wikia is not accessible if you've made further modifications. Remove the custom ad blocker rule(s) and the page will load as expected.