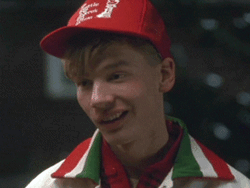 He is the young delivery man who shows up in the first Home Alone movie as an employee of Little Nero's Pizza. Kevin McCallister uses the "Angels with Filthy Souls" movie quotes to talk to him. He replies sarcastically until the end when he is scared. At the end of his scene, fake gunshot noises are heard and he runs off. He is never shown again in any other scenes.
Physical appearance
Edit
Judging his voice and his appearance, he is presumably 18 or 20 years old. He is also blonde.
Personality
Edit
He is air-headed, dimwitted, unintelligent and cowardly person. He is also dumb because, despite believing that somebody tried to kill him, he never considered calling the police or investigating it. He also seems to have a sarcastic sense of humor.
Ad blocker interference detected!
Wikia is a free-to-use site that makes money from advertising. We have a modified experience for viewers using ad blockers

Wikia is not accessible if you've made further modifications. Remove the custom ad blocker rule(s) and the page will load as expected.