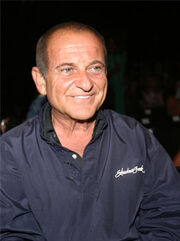 Joseph Frank "Joe" Pesci (February 9, 1943) is an American actor, comedian, musician, and is best known for his collaborations with Robert De Niro.
He is known for playing a variety of different roles, from violent mobsters to comedic leads to quirky sidekicks. Pesci has starred in a number of high profile films including Goodfellas, Casino, Raging Bull, Once Upon a Time in America, My Cousin Vinny, JFK and the Lethal Weapon series.
He is best known for portraying bumbling villain Harry Lime in Home Alone and Home Alone 2: Lost in New York.
External links
Edit
Ad blocker interference detected!
Wikia is a free-to-use site that makes money from advertising. We have a modified experience for viewers using ad blockers

Wikia is not accessible if you've made further modifications. Remove the custom ad blocker rule(s) and the page will load as expected.