Jessica is the new villain in Home Alone 5 The Holiday Heist.
Personality
Edit
Jessica is a mean, snobby, and dramatic woman who works for Sinclair. She loves her boyfriend and gets impatient when she doesn't receive a phone call from him. While breaking into the Baxter family home, she gets really scared when she thinks there's a ghost in the house. Like Sinclair, she seems to hate kids like Finn Baxter and Mason. She gets overwhelmed when her boss tries or loses his Gigi(the Widow).
Home Alone 5
Edit
Jessica is first seen in a long white car with Sinclair and Hughes. She is next seen opening the door to the Baxter family's house with Sinclair and Hughes.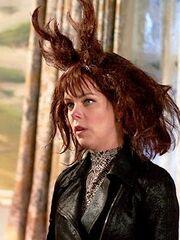 Jessica is played by Debi Mazar
In the film, it reveals that she has a boyfriend who keeps missing her calls until near the end.
Ad blocker interference detected!
Wikia is a free-to-use site that makes money from advertising. We have a modified experience for viewers using ad blockers

Wikia is not accessible if you've made further modifications. Remove the custom ad blocker rule(s) and the page will load as expected.