"Buzz, your girlfriend! Woof!""
―Kevin, seeing a picture of Buzz's girlfriend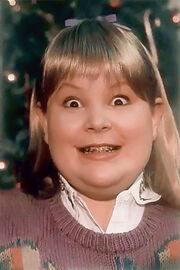 Buzz
's girlfriend is a girl mentioned in
Home Alone
.
Home AloneEdit
In the first film, she was shown in a picture when Kevin was looking through Buzz's stuff. She wears headgear and had a shocked expression. Kevin was disgusted upon seeing her picture.
The "girl" in the picture was actually a boy made up like a girl, because director Chris Columbus thought it too cruel to humiliate any real girl in such a fashion.
Ad blocker interference detected!
Wikia is a free-to-use site that makes money from advertising. We have a modified experience for viewers using ad blockers

Wikia is not accessible if you've made further modifications. Remove the custom ad blocker rule(s) and the page will load as expected.