Kevin McCallister, Alex Pruitt, and Finn Baxter leave Booby Traps for the criminals.
List of Physical Pain Booby Traps
Edit
1. Harry and Marv slip on toy cars.
2. A Bunch of tools hit Harry in the head.
3. A running lawn mower falls on Burton Jernigan, giving him a messy haircut.
4. Marv Merchants get's 3 staples on his butt, groin, and nose.
Booby Traps

Created by

Kevin, Alex and Finn

Gets

Harry, Marv, Beaupre, Alice, Unger, Jernigan, Vera, Sinclair, Hughes and Jessica
5. Burton Jernigan falls 3 stories into the basement and lands on toilet that crushes.
6. Peter Beaupre get's a spray paint mask on his face.
7. Harry Lyme tries to climb a ladder that Kevin put soap on.
8. Marvin Merchants gets hit in the face by 4 bricks.
9. Marv gets Tarantula on his face and screams.
10. Hughes drinks glue that looked like milk.
11. Harry gets an artificial ¨hot head¨.
12. Harry and Marv get hit in the face with full paint buckets being thrown off a stairwell.
Home Alone
Edit
Kevin uses fireworks to scare Marv away.
Kevin shoots Harry in the groin (the knee in the novelization) and Marv in the forehead.
Harry slips and falls on the front steps that have been iced.
Marv slips and falls down the basement steps that have been iced.
Marv's face gets hit with an iron.
Harry's hand gets burned by a heated doorknob.
Marv steps on a nail barefoot.
Harry's head gets burned by a blowtorch.
Harry gets glue on his face and gets covered in feathers.
Marv steps on glass Christmas ornaments.
Harry and Marv slip on cars.
They get hit with paint cans while going up the staircase.
Harry trips on a rope and lands on his back.
Kevin puts Buzz's pet spider on Marv's face, making him scream.
They try to climb across a rope to Kevin's treehouse but Kevin cuts the rope sending them swinging into a wall then falling to the ground.
Marley hits Harry & Marv with a snow shovel.
Harry head gets bernt by a blowtorch
Home Alone 2: Lost in New York
Edit
Home Alone 3
Edit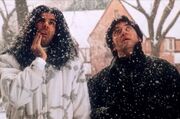 Home Alone: Taking Back The House
Edit
Home Alone 5: The Holiday Heist
Edit