Kevin McCallister, Alex Pruitt, and Finn Baxter leave Booby Traps for the criminals.
List of Physical Pain Booby Traps
Edit
Home Alone
Edit
Kevin uses fireworks to scare Marv away.
Kevin shoots Harry in the balls and Marv in the forehead
Harry slips and falls on the front steps that have been iced.
Marv slips and falls down the basement steps that have been iced.
Marv's face gets hit with an iron.
Harry's hand gets burned by a heated doorknob.
Marv steps on a nail barefoot.
Harry's head gets burned by a blowtorch.
Marv steps on glass Christmas ornaments.
Harry gets glue on his face and gets covered in feathers.
Harry and Marv slip on Micro machines.
They get hit with paint cans while going up the staircase.
Harry runs into a rope and lands on his back.
Kevin puts Buzz's pet on Marv's face making him scream.
They try to glide across a rope to Kevin's Treehouse but Kevin cuts the rope sending them swinging into a wall then falling to the ground.
Marley hits Harry & Marv with a snow shovel.
Home Alone 2: Lost in New York
Edit
Home Alone 3
Edit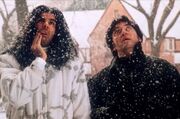 Home Alone 4: Taking Back The House
Edit
Home Alone: The Holiday Heist
Edit